Get hired by leading companies
Get the right job in 3 easy steps
Sign up with your profile
Quickly create your profile and upload your CV
See a score for each job
Our WorkScore algorithm automatically shows the best matching jobs for you.
Find a company that you like
Read about companies, see pictures and apply directly. It's that easy.​
Our Employer Branding projects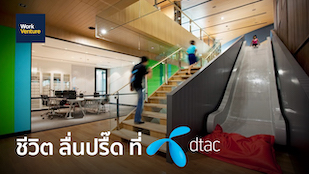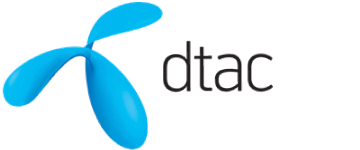 Dtac, as one of the leading telecommunications companies in Thailand for all generations, reached out to WorkVenture to deliver an external Employer Branding campaign. The comfortable and friendly working spaces and environments attract a high volume of candidates to work at Dtac. The office is designed for freedom of employees to share their ideas in the open spaces. Employees see Dtac as their second home instead of just a place to work at. Dtac imploys technology making working here easier for employees. WorkVenture helped to craft and showcase a typical 'day in the life' of an employee at Dtac as well as numerous benefits that they offer, including the accessible location in the middle of Bangkok. The Employer Branding campaigns effectively delivered results of strengthening Dtac as an employer of choice.
read more
See Video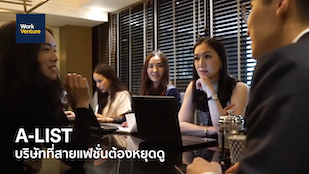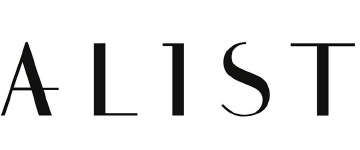 A-list is a leading high-fashion distributor and retailer, working with global brands such as Chloeé, Jimmy Choo and Valentino. A-list is the absolute answer for those fashion lovers or who have passion for fashion. A-list's organization image is an outstanding employer who cares about the employer's work-life balance and thoughts. A-list holds rooftop parties for employees after work hours. Working at A-list is full of colours and inspirations as all employees are to be trained to be at the global standard level. A-list trusted WorkVenture to help them strengthen their corporate values. Employees will have a chance to meet celebrity and well known PR companies during A-list's events. The company needed to enhance its position as a well known employer, WorkVenture helped with improving the corporate image and EVP by producing an Employer Branding video to showcase real working life in the company throughout different divisions - effectively attracting leading talent from the fashion and design industries.
read more
See Video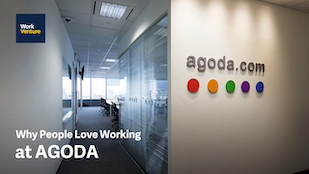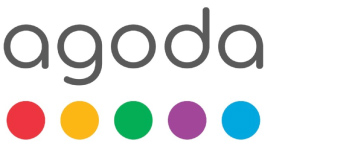 As the globally leading travel and hotel reservation platform in the world, Agoda is hiring at a very large scale on a global scope. The company required end-to-end planning and delivery of recruitment results through a global Employer Campaign to bring in the best talent for all of their departments throughout the world, most importantly for English speaking roles, for their existingly international organization. Thus, it is very important to position with a solid Employer Branding strategy. The flat organization and global organisational values of Agoda really shouts out to the new generation of international candidates. WorkVenture delivered an Employer Branding video campaign to a global and local audience, increasing the daily incoming talent pool size by a multiple factor.
read more
See Video
As seen in press and media
"Career startup platform
a success - working together
with industry leaders as well
as fast-growing startups."
Nation
"An easier channel for
relevant career opportunities
to match users skills and
interests."
Techsauce
Now you can find jobs like finding shows on Netflix
Dailynews
WorkVenture is a future of job platform where you can find jobs that fit you life
Bangkok Biz