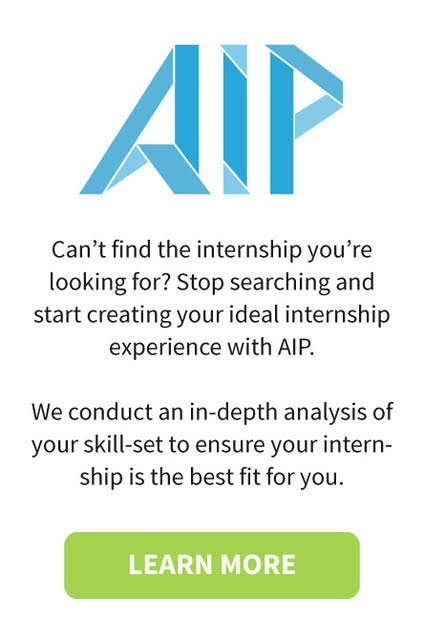 What is WorkScore™?
What is WorkScore? The blue bar next to each of the jobs indicates how well your profile matches with the job position. To see WorkScore scores you need to complete your profile at least to 80%.
For best matches we recommend to fill as much as you can, up to 100%. You can apply to all jobs, although jobs with higher match percentage are most relevant to your skills, education and background. Even with a low WorkScore percentage, if you really like the job then it still could be a right job for you!
Upload your resume.
Get found by the Employers.



Experience:
No experience required
Skills:
Good Communication Skills, Creative Writing, Teamwork
As WorkVenture's audience grows quickly, so does our team. We are looking for smart and passionate interns to help us build an amazing product together. As an intern at WorkVenture, you will be working together with our marketing, content and management teams, developing the brand and the product.
The tasks you will be assigned to will be important and exciting. You will have the opportunity to work with and learn from a team of young professionals and to develop your skills in variety of fields.
We hope that your internship with us will lead to the forming of long term friendships with colleagues in our team and believe there is a strong opportunity to pursue your career at WorkVenture in the future.
The Marketing team creates content that moves our users and inspires their careers. The team brings the spirit of joy, authenticity, and sharing of our product to our users, as well as bringing our users' passion, insights, and dreams to our product. Working within the team, the role offers excellent opportunities to develop and utilize skills in marketing, branding and communications.
The candidate will be working with the team toward building new partnerships, expanding existing relationships and utilizing public relations opportunities to create brand awareness.
Developing written materials, story pitches, messaging guidelines, press releases, Q&As, presentations and speeches.
Supporting the team in preparation for press events, public speeches and media engagements.
Strong communication skills, excellent writing skills and a good visual sense.
Creativity and resourcefulness in finding new ways to reach users and to establish communication with them.
Passion for building a better future for younger generations and towards making a real impact in the society.
Availability for an internship of at least 2 months, 3 months is a plus.
Previous work experience not required.



Experience:
No experience required
แผนกที่เปิดรับ.
Sale&Marketing&Event
China Expansion.
ทำ Market Research.
ทำสรุปข้อมูล จัดทำ Database.
จัดเตรียม /จัดซื้อ Welcome Kit ให้ลูกค้าเพื่อไปดูงาน Business Trip ต่างประเทศ.
ร่วมพบลูกค้าเพื่อรับบรีฟ ความต้องการลูกค้า.
ทำpresentation นำเสนอเส้นทางดูงานต่างประเทศ.
ไปออกบูธส่งเสริมการตลาด.
จัดเตรียมอุปกรณ์ และสถานที่เพื่อเตรียมงานอีเว้นท์.
ต้อนรับลูกค้า และดูแลลูกค้าที่มาลงทะเบียนร่วมงานอีเว้นท์.
ดูแลการลงทะเบียน การรวบรวมฐานข้อมูล.
การออกบูธรับสมัครผู้สนใจเข้าโครงการ.
อยู่ระหว่างศึกษาในสาขาที่เกี่ยวข้อง.
มีความสนใจงานด้าน Sale&Marketing.
มีความคิดสร้างสรรค์.
ทำงานคล่องแคล่ว ว่องไว.



Experience:
No experience required
Skills:
Adobe Illustrator, Adobe Photoshop, Digital Marketing, Facebook Marketing, Social Media Management, Thai
MASKET COMMUNICATIONS CO., LTD/บริษัท มาสเก็ต คอมมูนิเคชั่นส์ จำกัด.
MASKET COMMUNICATIONSให้บริการตั้งแต่ปี 2013 โดยทีมงานคนรุ่นใหม่ที่มีประสบการณ์ด้านโฆษณาและการตลาดมากกว่า 10 ปี ยึดมั่นหลักการทำงานที่สนุกและเกิดผลอย่างมีประสิทธิภาพ พร้อมดูแลและตอบโจทย์ด้านกิจกรรมทางการตลาดให้ในรูปแบบone-stop serviceอาทิเช่น วางแผนการสื่อสาร โซเชียลมีเดีย ออกแบบดีไซน์micro-influencersและจัดงานแถลงข่าว.
เรากำลังมองหาน้องๆที่สนใจจะเรียนรู้ เข้ามาฝึกงานในตำแหน่งต่อไปนี้
ตำแหน่งGraphicDesigner INTERNSHIP (นักศึกษาฝึกงานGraphic Designer).
สนับสนุนทีมGraphic Designer ในการสร้างสรรค์ภาพนิ่งหรือวิดีโอคลิปเพื่อการสื่อสารที่น่าสนใจ และดึงดูดให้กลุ่มเป้าหมายมีปฏิสัมพันธ์กับแบรนด์สินค้า.
ทำความเข้าใจ ศึกษาความต้องการและความสนใจของกลุ่มเป้าหมายของลูกค้าเพื่อนำมาใช้สร้างงาน.
นำเสนอแนวคิดที่จะทำให้งานน่าสนใจ ใหม่ และโดดเด่นอยู่เสมอ.
วางแผนการทำงานร่วมกับทีมงานอื่นๆ.
ตำแหน่งAccount Executive INTERNSHIP (นักศึกษาฝึกงาน Account Executive).
สนับสนุนทีม Account Relationในการติดต่อประสานงานกับลูกค้า รับงาน ส่งงาน.
หาข้อมูล ศึกษาความต้องการและความสนใจของกลุ่มเป้าหมายของลูกค้าเพื่อการวิเคราะห์ จัดเตรียมการวางแผนการตลาด และแผนการสื่อสาร.
นำเสนอแนวคิดที่จะทำให้งานน่าสนใจ ใหม่ และโดดเด่นอยู่เสมอ.
วางแผนการทำงานร่วมกับทีมงานอื่นๆ.
กำลังศึกษาในระดับปริญญาตรี นิเทศศาสตร์ ศิลปกรรมศาสตร์ เทคโนโลยีสารสนเทศและการสื่อสาร กราฟิกดีไซน์ ดิจิตัลมีเดีย หรือสาขาที่เกี่ยวข้อง.
มีเวลา 2-4 เดือนในการฝึกงาน.
อยากลองใช้ความคิดสร้างสรรค์ มองหารูปแบบใหม่ในการใช้social mediaในการสื่อสาร สนใจเทรนด์ที่สร้างความสนใจและกระแสในสังคม.
รับผิดชอบต่องาน รักษาเวลา รักการทำงานที่มีคุณภาพ ละเอียดรอบคอบ ทำงานเป็นระบบ.
มีความพร้อมที่จะเรียนรู้ทักษะในชีวิตการทำงาน และอยากเตรียมตัวก่อนการออกไปทำงานจริง.
ทักษะด้านการสื่อสารและมนุษยสัมพันธ์ดี รับฟังความคิดเห็นต่างๆ ชอบทำงานร่วมกันกับผู้อื่น.
นักศึกษาฝึกงาน Graphic Designer ควรใช้โปรแกรมกราฟิกและภาพของAdobeได้ดี(Photoshop, Lightroom, Illustrator, Premiere Pro, After Effectsเป็นต้น).
นักศึกษาฝึกงาน Account Executive ควรใช้กลุ่มโปรแกรม Microsoft Office ได้ดี.
นักศึกษาที่สนใจ สามารถส่ง resume พร้อมportfolio แนะนำตัวได้ที่ [email protected]